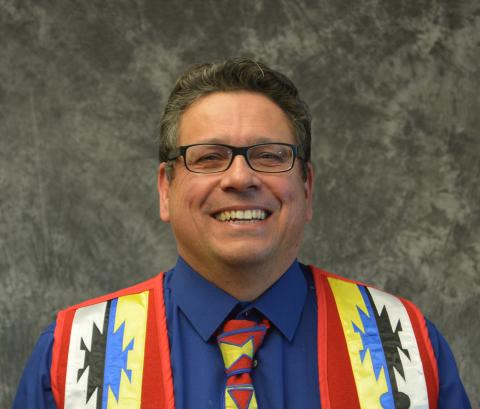 Professor and Chair
Faculty
206 Stewart Hall
573-882-2191
Education
Ph.D., Geography, University of Oklahoma
M.S., Rural Geography, University of Northern Arizona
B.S., Geography, University of Oklahoma
Research Interests
My work focuses upon the social aspects of geographic information systems including the uneven development of geographic information networks within institutions and their connections and disconnections within indigenous communities around the world. Palmer studied UNESCO World Heritage nomination maps/GIS in Paris, France to describe what translations and network alignments work or do not work, and how to flatten out the process to allow for greater Indigenous participation. The UNESCO work has led Palmer to research place-based story mapping in New Zealand, specifically at Tongariro National Park and other North Island locations. Palmer's current research describes the processes of translating Indigenous knowledge into standardized 3-D image and visualization technologies. The investigators of this project have the honor and rare opportunity to collaborate with Otomi timekeepers and knowledge holders. Otomi people have inhabited the central Mexico plateau for at least seven thousand years. Over this period, the Otomi people have cultivated a vast knowledge of astronomy and timekeeping. This study provides an opportunity to learn more about the processes of Indigenous technoscience and what impacts visualization technologies might have upon Otomi calendar knowledge and vice-versa. New research includes soundscape mapping and ecological calendars and wind ecology. Palmer seeks graduate students who are interested in international research, bridging systems, and the narrative construction of maps and geographic information systems (GIS).
Bio
I am originally from the Great State of Oklahoma, love thunderstorms, tornadoes, a spectrum of 70s, 80s, and 90s music, and Tex-Mex (tortillas, beef chili sauce, and cheese in 1000 different combinations). Missouri is my family's home and we love Columbia. It is a wonderful college town and just far enough from big cities to be considered slow paced. Fly fishing for trout is my passion! Ozark springs and rivers are great places to chase rainbow and brown trout.  At this stage in my career, I am focused on helping undergraduate and graduate students reach their potentials and pursue their dreams. 
Courses Taught
Graduate Seminar: Critical GIS and Society

Resources and Indigenous People

Graduate Seminar: Indigenous People

GIS for the Social Sciences

Native American Geographies

Regions and Nations I

World Regional Geography

Introduction to the Humanized Earth

Human Geography

Earth Systems of the Southern Plains

Latin American Geography

Severe Weather and Society
Elements of Mapping and Spatial Analysis
Select Publications
Acharya, S., Morgan, M., Xu, S., and M.H. Palmer. 2023. Corridors and Deer-Vehicle Collisions Along Missouri Interstate Highways. Trees, Forest, and People. https://doi.org/10.1016/j.tfp.2023.100409.
Johnson, J.T., Brewer, J.P., Nelson, M.K., Palmer, M.H. and Louis, R.P., 2023. Indigenous Research Sovereignties: Sparking the Deeper Conversations We Need. Environment and Planning F, p.26349825231163149.
Fox, T. and Palmer, M.H., 2022. Transcultural Place-Making in Little Havana. Journal of Latin American Geography, 21(1), pp.160-184.
Palmer, M., Frost, S., Martinez, G. and L. Venigalla. 2021. Art and Argument: Indigitization of a Kiowa Historical Map for Teaching and Research. ISPRS International Journal of Geo-Information, 10(11): 746. URL: https://doi.org/10.3390/ijgi10110746
Palmer, M. 2021. "Drawing a Line from their Institution:" One Origin Story of Indigenous GIS Design. Native American and Indigenous Studies, 8(1): 106-111.
Palmer, M. and C. Korson. 2020. Decolonizing World Heritage Maps using Indigenous Toponyms, Stories, and Interpretive Attributes. Cartographica: The International Journal for Geographic Information and Geovisualization, 55(3):183-192.
Erb, J., Hearne, J. and M. Palmer. 2018. Origin Stories in the Genealogy of Cherokee Language Technology. Boundary 2-An International Journal of Literature and Culture. https://www.boundary2.org/2018/07/hearne/
Palmer, M. and A. Feyerherm. 2017. Visual Convincing of Intangible Cultural Relationships using Maps: A Case Study of the Tongariro National Park World Heritage Nomination Dossier. The Canadian Geographer /Le Géographe Canadien, 62(1): 81–92.
Palmer, M. 2016. Sustaining Indigenous Geographies through World Heritage: A Study of Uluru-Kata Tjuta National Park. Sustainability Science, 11(1): 13-24.
Palmer, M. 2016. Kiowa Storytelling around a Map. In C. Travis and A. van Lunen (Ed.), The Digital Arts and Humanities: Neogeography, Social Media and Big Data Integration and Applications (Dordrecht, NLD: Springer Publishing), pp. 63-73.
Palmer, M., and Rundstrom, R. 2013. GIS, Internal Colonialism, and the U.S. Bureau of Indian Affairs. Annals of the Association of American Geographers, 103(5): 1142-1159.
Palmer, M. and Kraushaar, S. 2013. Volunteered Geographic Information, Actor Network Theory, and Severe Storm Reports. In D. Sui, S. Elwood, and M. Goodchild (Ed.), Crowdsourcing Geographic Knowledge (Dordrecht, NLD: Springer Publishing), pp. 287-306.
Palmer, M. 2013. (In)digitizing Cáuigú Historical Geographies: Technoscience as a Postcolonial Discourse. In A. von Lunen and C. Travis (Ed.), History and GIS: Epistemologies, Considerations and Reflections, (Dordrecht, NLD: Springer Publishing), pp. 39-58.
Palmer, M. 2013b. Cartographic Encounters with the Bureau of Indian Affairs' GIS. In D. Cole and I. Sutton (Ed.), Mapping Native America: Cartographic Interactions between Indigenous Peoples, Government, and Academia, (modified reprint of Palmer, M. 2012, AICRJ article), In press
Palmer, M. 2012a. Cartographic Encounters at the BIA GIS Center of Calculation. American Indian Culture and Research Journal, 36(2) 75-102.
Palmer, M. 2012b. Theorizing Indigital Geographic Information Networks. Cartographica: The International Journal for Geographic Information and Geovisualization, 47(2): 80-91.
Palmer, M. 2011. Sold! The Loss of Kiowa Allotments in the Post-Indian Reorganization Era. American Indian Culture and Research Journal, 35(3): 73-57.
Palmer, M. and Hanney, J. 2010. Geographic Information Networks in American Indian Governments and Communities. International Journal of Virtual Communities and Social Networking, 2(2): 1-10.
Palmer, M., Elmore, R.D., Watson, M.J., Kloesel, K., Palmer, K. 2009. Xoa:dau to Maunkaui: Integrating Indigenous Knowledge into an Undergraduate Earth Systems Science Course. Journal of Geoscience Education, 57(2): 137-44.
Palmer, M. 2009. Engaging with Indigital Geographic Information Networks. Futures: The Journal of Policy, Planning and Futures Studies, 41: 33-40.
Palmer, M. 2007. Cut From the Same Cloth: The United States Bureau of Indian Affairs, Geographic Information Systems, and Cultural Assimilation. In Information Technology and Indigenous People, edited by Laurel Evelyn Dyson, Max Hendriks, and Stephen Grant. (Hershey, PA: Information Science Publishing) pp. 220-31.
Palmer, M. and Rundstrom, R. 2005. Commentary in response to "Satellite Culture: Global Positioning Systems, Inuit Wayfinding, and the Need for a New Account of Technology" by C. Aporta and E. Higgs. Current Anthropology, 46(5): 747-48.
Palmer, M. 2000. Hands-On Thunderstorms - Activities to Help Students and Teachers Understand Thunderstorms and Severe Weather. Science and Children, 37(7): 40-45.
Other Publications:
Palmer, M. (2022). [Review of the book Earth Keeper: Reflections of American Land, by N. Scott Momaday]. Native American and Indigenous Studies 9(2), 185-186. doi:10.1353/nai.2022.a863614.
Elmore, R.D., Palmer, M.H., Watson, M.J., and Kloesel, K. 2008. A Pipeline for Native American Students in Geoscience at the University of Oklahoma. Geoscience Diversity 2008: Status, Strategies, and Successful Models I, 2008 Joint Meeting of The Geological Society of America, Soil Science Society of America, American Society of Agronomy, Crop Science Society of America, Gulf Coast Association of Geological Societies with the Gulf Coast Section of SEPM. Vol. 40, No. 6, p. 129.
Palmer, M. H., Stevenson, S., and Zaras, D. S. 2000. Student Evaluations of the Oklahoma Weather Center REU Program: 1995, 1998, and 1999. Preprints, Ninth Symposium on Education, Long Beach, Calif., American Meteorological Society, 24-27.
Palmer, M.H. 1998. Research Experiences for Undergraduates at the Oklahoma Weather Center: Summer 1998. Preprints, Eighth Symposium on Education, Dallas, Texas, American Meteorological Society, 42-45.